20 Howley Street, Peabody, Mass 01960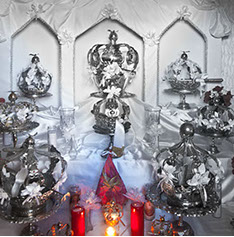 The Holy Ghost Society Cultural Center in Peabody, MA is owned by Azorean Brotherhood of The Divine Holy Ghost, Inc. a non-profit charitable religious corporation formed in 1979.
The Peabody Holy Ghost Society originally served inexpensive meals to members of the community. It has evolved into a vibrant cultural organization that provides a home to many Portuguese activities sponsored by various cultural and community groups throughout the city.
The Holy Ghost Society holds an annual Holy Ghost Feast as well as other community events in its spacious Cultural Center.
All monies earned by the Holy Ghost Society go towards supporting the Cultural Center.
Holy Ghost Society
20 Howley Street, Peabody, MA 01960
Tel: (978) 532-7669 Fax: (978) 532-0394